Image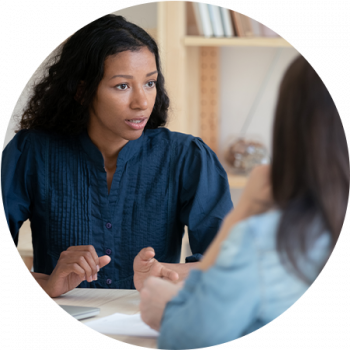 For the protection of consumers, as well as creditors, it is critical to use and/or refer people to the right agency for consumer credit counseling. 
Check with your state Attorney General, local consumer protection agency and Better Business Bureau to find out if consumers have filed complaints about the provider you are considering. Any reputable credit counseling agency should send you free information about itself and the services it provides without requiring you to provide any details about your situation. If not, consider that a red flag and go elsewhere for help.
Once you've weeded out the providers with complaints against them, make a list of the other credit counseling agencies in your area and interview several.
Questions to ask
Is the service a nonprofit or a for-profit agency? How much experience does the agency have?
Generally nonprofit agency fees are more affordable. The Village is a nonprofit agency established in 1891. The Village pioneered credit counseling services in North Dakota in 1976, then expanded into Minnesota in 1989. The Village's many years of experience are beneficial to finding appropriate financial solutions.
What is the agency's mission statement? Do their values align with yours?
The Village's mission is to enhance the lives of those we serve. We provide services in response to people's needs consistent with our purpose, our resources and our ability to provide programs through a dedicated professional staff.
Does the agency provide local services? What services do they offer?
Agencies need to be a part of the communities where services are provided. Some agencies only provide over-the-phone, out-of-state services. The Village Financial Resource Center is based in Fargo and serves North Dakota and Minnesota. We provide budget counseling, debt management, money management education, housing counseling, foreclosure prevention counseling, pre-marital financial counseling, gambling counseling, and a credit report reading service.
Does the agency offer educational materials? If so, will they send them to you? What are the costs? Can you access them on the Internet?
The Village has an extensive educational program. We believe that it is very important to educate people so they can make lasting changes in their spending behavior. Some of our materials are offered online, free of charge at www.HelpWithMoney.org and others are offered during individual counseling sessions or in a workshop setting.
What are agency fees? Are they disclosed up front?
The Village's session fee is $25; however, this can be waived or lowered for those who are unable to pay. 
For those who join the debt management program (DMP), the setup fee is $50. DMP clients also pay a monthly client fee of 9% of the amount they send us each month – the maximum client fee is $50.
What are the qualifications/credentials of the agency's counselors?
All of our counselors are certified as Consumer Credit Counselors, and some are certified as Housing Counselors, through the National Foundation for Credit Counseling. Our counselors have college degrees in the areas of business administration, accounting or economics; and/or have extensive experience in industries related to credit, accounting, insurance or banking.
Who regulates, oversees and/or licenses the agency? Is the agency accredited?
Many states license and/or regulate credit counseling services to protect the client and the community. The Village is licensed in Minnesota by the Department of Commerce, and is regulated by the State of North Dakota through the Attorney General Office. We are a member of the National Foundation for Credit Counseling, Inc., and also meet the rigorous accreditation standards of the Council on Accreditation.
What assurance will you have that information about you will be kept confidential? 
The Village provides clients with a written Privacy Notice outlining policies and procedures governing access to and the release of information about its clients.
---
To contact The Village Financial Resource Center, call 1-800-450-4019 or use the form below.