Image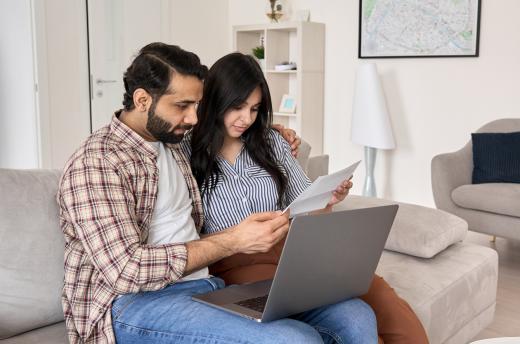 Most people avoid getting a copy of their credit report because it is difficult to read and the abbreviations don't make sense. Financial counselors at The Village can provide you with instant access to your report and will help you understand it.
For more information on credit reports, click on a link below:
To make an appointment, call 1-800-450-4019 or contact us online.
Disputing Credit Reports
Your credit report contains information about where you work, where you live, how you pay your bills, whether you've been sued or arrested, and if you have ever filed for bankruptcy. Companies called consumer reporting agencies (CRAs), or credit bureaus, compile and sell your credit report to businesses. Because businesses use this information to evaluate your applications for credit, insurance, employment, and other purposes allowed by the Fair Credit Reporting Act (FCRA), it's important that the information in your report is complete and accurate.
Correcting Errors
Both the credit reporting agency and the organization that provided the information to the CRA, such as a bank or credit card company, are responsible for correcting inaccurate or incomplete information in your credit report. To correct errors in your report, take the following steps:
Tell the credit reporting agency, in writing, the information you believe is inaccurate.
Include copies of documents that support your position.
Send your letter by certified mail, return receipt requested, so you can document what the CRA received.
Keep copies of your dispute letter and enclosures.
In your letter:
Include your complete name and address.
Clearly identify each item you dispute.
State the facts and explain why you dispute the information.
Request deletion or correction.
Enclose a copy of the report with the disputed items circled.
Here is an example:
CRAs must re-investigate the items in question and forward all relevant data you provide about the dispute to the information provider. After the information provider receives notice of a dispute from the CRA, it must investigate, review all relevant information provided by the CRA, and report the results to the CRA. If the information provider finds the disputed information to be inaccurate, it must notify all nationwide CRAs so they can correct this information in your file.
Under the Fair Credit Reporting Act:
Disputed information that cannot be verified must be deleted from your file. 
If your report contains erroneous information, the CRA must correct it.
If an item is incomplete, the CRA must complete it.
If your file shows an account that belongs only to another person, the CRA must delete it.
When the reinvestigation is complete, the CRA must give you the written results and a free copy of your report if the dispute results in a change.
If you request it, the CRA is required to send notices of corrections to anyone who received your report in the past six months.
In addition to writing to the CRA, tell the creditor or other information provider, in writing, that you dispute an item. Include copies of documents that support your position. Many information providers specify an address for disputes. If the provider then reports the item to any CRA, it must include a notice of your dispute.
(Information provided by the Federal Trade Commission. For more information on disputing credit reports, call 202-FTC-HELP, or go to www.ftc.gov.)
---
Credit Scoring
Credit scoring is a system that creditors use to help determine whether or not to give you credit. This score measures the likelihood that a borrower will default or not repay a loan. Credit scoring allows for a quick, objective analysis of credit history.
There are many different credit scores in use, but the most widely used score in the financial service industry is the FICO score generated by the Fair Issac Corp. Each credit bureau can also generate its own credit score. The three national credit bureaus each have their own version of the FICO score with their own names. Equifax has the Beacon system, TransUnion has the Empirica system, and Experian has the Experian/Fair Isaac system.
The scores are correlated so a 700 at one bureau is the same as a 700 at another, but because the bureaus might have different information on you, it is not unusual for credit scores to differ by even 50 or more points from one credit bureau to another.
What does my credit score mean?
Over 650 
Scores above 650 indicate a very good credit history. People with these scores will usually obtain credit quickly and easily – with favorable terms.
620 to 650
Scores between 620 and 650 are the average scores and indicate basically good credit. People with scores in this range will have a good chance of obtaining credit at favorable rates, but may need to provide additional documentation and explanations for a lender.
Below 620
Scores below 620 may prevent a borrower from getting the best interest rates and terms – but it does not mean they cannot get credit. The process will be lengthier and this score could push a borrower into a "sub prime" market.
What factors affect my score?
Although complex, scoring models generally evaluate the following types of information from your credit report.
Have you paid your bills on time? 
It is likely that your score will be affected negatively if you have paid bills late, had an account referred to collections, or declared bankruptcy.
What is your outstanding debt? 
Many scoring models evaluate the amount of debt you have compared to your credit limits. If the amount you owe is close to your credit limit, that is likely to have a negative affect on your score.
How long is your credit history? 
An insufficient credit history may have an effect on your score, but that can be offset by other factors, such as timely payments and low balances.
Have you applied for new credit recently? 
Whenever you apply for new credit, an "inquiry" is placed on your credit report. Too many inquiries on your report may affect your credit score. However, not all inquiries are counted. Inquiries by creditors who are monitoring your account or looking at credit reports to make "pre-screened" credit offers are not counted.
How many, and what types of, credit accounts do you have? 
Although it is generally good to have established credit accounts, too many credit card accounts may have a negative effect on your score.
Some credit scoring models also consider information from your credit application – your job or occupation, length of employment, whether you own a home, etc.
Improving your credit score
In general, the following behaviors are likely to improve your credit score:
Pay your bills on time and consistently.
Keep balances low on credit cards.
Make sure you do not use the full amount of credit available to you – leave some wiggle room.
Maintain only a reasonable amount of unused credit.
Do not excessively shop for unsecured credit.
Maintain consistency in your credit applications. Use your full legal name – no nicknames.
If you are going to close existing credit card accounts, close those you have had the least amount of time. The length of relationship with your creditors improves your score.
To learn more about your credit score, talk to a credit counselor at The Village. Call 1-800-450-4019 or contact us online.
For help in evaluating your credit report, take advantage of The Village Financial Resource Center's Credit Report Reading Service. 
---
Credit Repair Clinics
Every day, companies nationwide appeal to consumers with poor credit histories. They promise, for a fee, to clean up your credit report so you can get a car loan, a home mortgage, insurance, or even a job. The truth, according to the Federal Trade Commission, is that they can't deliver. After you pay them hundreds of dollars in up-front fees, these companies do nothing to improve your credit report; many simply vanish with your money.
The Warning Signs
If you decide to respond to a credit repair offer, beware of companies that:
Want you to pay for credit repair services before any services are provided.
Do not tell you your legal rights and what you can do – yourself – for free.
Recommend that you not contact a credit bureau directly.
Suggest that you try to "invent" a new credit report by applying for an Employer Identification Number to use instead of your Social Security Number.
Advise you to dispute all information in your credit report or take any action that seems illegal, such as creating a new credit identity. If you follow illegal advice and commit fraud, you may be subject to prosecution.
The Truth
No one can legally remove accurate and timely negative information from a credit report. But the law does allow you to request a reinvestigation of information in your file that you dispute as inaccurate or incomplete. There is no charge for this. Everything a credit repair clinic can do for you legally, you can do for yourself at little or no cost. (For example, you can follow these step-by-step instructions on Disputing Your Credit Report).
To visit with a Village financial counselor about your credit report, call 1-800-450-4019 or contact us online.
---
Credit Reporting Companies
You are entitled to a free credit report once a year from each of the three credit bureaus. These reports can help alert you to potential signs of fraud and give you an idea of your credit worthiness. You can access your free yearly credit report through www.annualcreditreport.com. You can also visit each of the credit bureau websites to access your credit report.
To visit with a Village financial counselor about your credit report, call 1-800-450-4019 or contact us online.