Image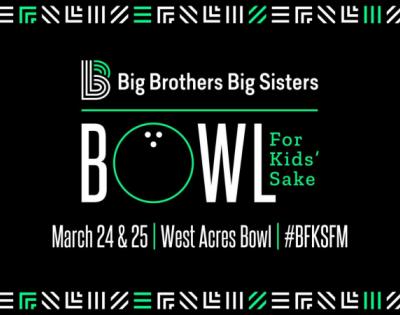 Time:
3:30 P.M. Thursday, March 24; 3:30 P.M. and 9:30 P.M. Friday, March 25
Location Address -
West Acres Bowl, 3402 Interstate Blvd S., Fargo
Support youth in the Fargo-Moorhead community by joining Big Brothers Big Sisters for Bowl for Kids' Sake 2022. Your participation in this fun event, as a bowler or sponsor, ensures more kids in need of a mentor can be matched with a Big Brother or Big Sister who will guide them along a path to achieving their full potential. 
Fundraising teams collect donations and then attend one of three bowling parties, scheduled for 3:30 pm Thursday, March 24 and 3:30 and 9:30 pm Friday, March 25. To register your team or to donate, visit our online fundraising page. To become a sponsor, call the Development team at 701-451-4900.
You can also support Bowl for Kids' Sake by purchasing a paper bowling pin for $1, $3 or $5 at any Hornbacher's location March 9-22.