Image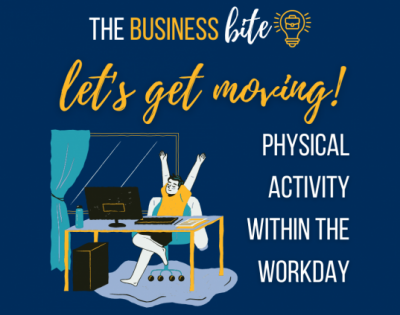 Location Address -
Online via Zoom
Whether at home or the office, most employees sit for far too long each day. We may know we should take breaks, but it is so easy to fall into the "just one more email" mentality and sacrifice the physical self-care our bodies need over the workday. Join Village Business Institute Trainer Tanya Fraizer for a FREE strategy-filled training on ways to break the habit of the "8-hour sit," especially as the weather becomes more conducive to accessing additional options.
In this training, we will:
Identify the challenges of a "desk job" and its impact on our bodies, productivity, and focus.
Explore a wide variety of opportunities to break the cycle of sitting, both during breaks as well as while still on-task at the job.
This free session will start at noon Central on Wednesday, May 11, and will include time for questions and answers. This webinar is part of The Business Bite, a series of lunchtime talks on topics that matter. The session is free and spaces are limited. Register via Eventbrite