Image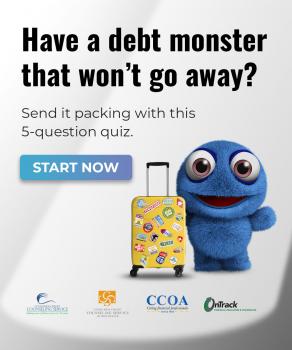 FARGO – The Village Family Service Center announces the launch of a new campaign and diagnostic quiz to help community members identify if they have a debt challenge and to access tips, tools, and support.
Through a campaign and website, DebtMonsters.org, community members can take a fun, non-judgmental web-based quiz that helps people identify their debt situation and directs them to clear, easy next steps. The Village hopes to spread the word that there are tips, tools, and programs that can make a difference.
For many in the community, debt enables homeownership or access to education. But for others, debt can quickly become difficult to manage as households experience emergencies, unexpected expenses, or shortfalls in their cash flow. According to the Federal Reserve Bank of New York, Americans collectively hold $14.56 trillion in debt, and the share of credit card balances that are 90-plus days delinquent is 4.12%.
Research conducted by The Ohio State University demonstrates the positive client impact of nonprofit credit counseling. However, community members with debt challenges often reach out for credit counseling when they are already struggling with collections or are facing utilities shut-off or eviction. A better time for people to reach out is when they are making payments, but those payments are not measurably bringing down their balances.
"Our counselors often hear from clients that they wished they'd come in earlier for help addressing their debt, so this project is in response to that need," said Tina Anim, program manager for The Village Financial Resource Center. "We know it can be scary to reach out for support especially if you're already struggling with a job loss, reduced hours, a divorce, or from medical bills. We want community members to know that they are not alone."
In addition to a locator to identify their local nonprofit credit counseling agency, the DebtMonsters.org quiz also directs visitors to resources that can help them take the recommended next steps for their debt situation.
North Dakota and Minnesota residents can also reach out directly by visiting www.HelpwithMoney.org or by calling 1-800-450-4019.