An Inspiring Story of Overcoming Drinking, Digging Deeper, and Giving Back
Image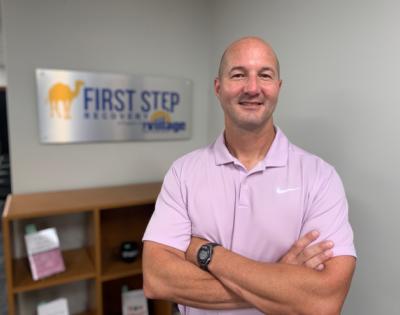 In 2018, Thad Stafford was arrested for driving while intoxicated in his hometown, the city where he'd served on the police force for more than two decades.
He entered treatment as a means to save his career, to ensure he could continue to provide for his wife and four kids. But shortly into his stay at an inpatient center, he realized there was more to his story. The stress and trauma of his job as a sergeant who investigated child abuse cases had created deep wounds that he had buried. The drinking was a symptom of greater issues.
"Over 20 years, crumb by crumb, it starts to pile up. I wasn't dealing with it … I was drinking. That's how I dealt with it," he says.
Thad realized if he didn't find recovery, he might lose more than his job. He could lose his family. He could lose everything.
Once home from treatment, Thad knew the risk of him sliding back into addiction was greater if he didn't stay connected to a recovery program, so he attended First Step Recovery's Intensive Outpatient Program and then its Relapse Prevention Group. He also met with counselors at The Village Family Service Center to address his mental health.
Homework assigned by First Step's licensed addiction counselors forced Thad to dig deep into his issues, and the stories shared by guest speakers were beneficial to hear. Individual counseling gave him tools to cope with Post-Traumatic Stress Disorder. "I still struggle, almost on a daily basis, but the symptoms aren't as extreme," he says.
Though he originally pursued treatment for the sake of his career, Thad never went back. He retired from the police force and now works at Microsoft.
"First Step's IOP helped save my life and my family," Thad says. He celebrated two years' sobriety on Aug. 3, 2020. Now Thad wants others to know that recovery is possible. It takes a lot of work, but the results are worth it.
"You can find a joyful, happy, fun-filled life without the use of chemicals," he says. "I never thought it was possible. When I first started, I could not imagine never having another drink again. I figured I'd be miserable the rest of my life."
But instead, he says, he has an inner peace, a more intimate relationship with his wife and kids, and a stronger spiritual life. He no longer feels like he's living under a dark cloud.
Thad still comes back to First Step as one of the alumni speakers. It's one way he can give back. "I never saw myself in this position, but I'm in it and I'm trying to do everything I can to erase some of the stigma, not just about substance abuse but mental health and mental wellness in general," he says.
He knows other first responders struggle. The trauma they encounter takes a toll no one is meant to bear. "We all struggle. We all have problems, and it's OK to have those feelings," he says. "You're not alone."
---
To schedule an assessment with First Step Recovery, call 701-451-4900 or fill out an online contact form. Donations ensure treatment programs remain accessible. Please consider making a gift to First Step Recovery.