He's the Adorable Dog Who Helps Out in Therapy Sessions
Image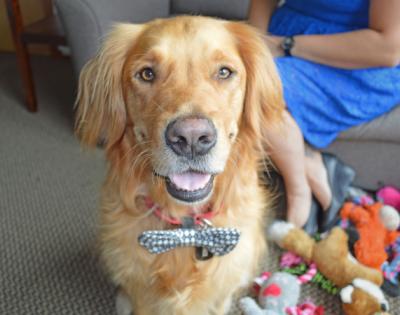 Cuddling isn't usually part of a counseling session, except when Dr. Spencer Reid is in the room.
Dr. Spencer Reid is a four-legged mental health professional. The golden retriever assists Village Therapist and Clinical Supervisor Shauna Erickson-Abou Zahr with her Moorhead, Minnesota-area clients, most of whom are children, adolescents, and young adults.
Shauna and Dr. Spencer Reid (named for the "Criminal Minds" character) became a family 6 years ago when he was a puppy. Shauna knew she wanted to implement animal-assisted therapy, and Dr. Spencer Reid was just the dog for that. She had grown up with golden retrievers, and chose this specific breed based on their temperament, intelligence, and reputation as family dogs.
Therapy looks different when Dr. Spencer Reid is part of the session. He may be on the couch, laying on his back, or with Shauna and the client on the floor. That change in hierarchy can make it easier for a client to open up. Scary things don't seem so scary when you can look at, pet, or play with a therapy animal.
He's the bridge for Shauna to reach new levels of client support. He provides a calming atmosphere, and his presence, puppy-dog eyes, wet kisses and well-placed paws can make it easier for clients to be vulnerable and express their feelings.
Dr. Spencer Reid's favorite parts of his job are being petted and the undivided attention. When asked if he wants to go to The Village, he is at the door, ready to help!
*Originally posted August 2020.