Sensory Intervention Items to Help Calm Your Nervous System
Image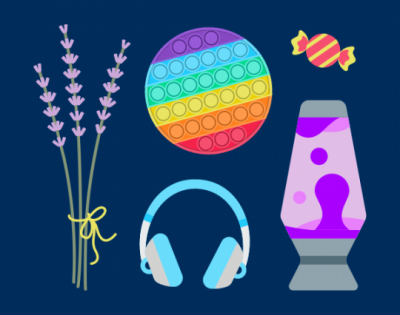 Using sensory interventions can help regulate your body when you're in a stressful or overwhelming situation. By utilizing one of your senses, your mind and body can focus on a specific stimulus, which will ground you and calm your thoughts. Sensory tools and toys can help with this.
How do sensory interventions work?
The first step to successful sensory intervention is to assess which of your senses is most perceptive to stimulation. Once you choose between touch, taste, sound, sight, and smell, you can focus on that sense as a grounding exercise. Stimulate the primary sense you've chosen any way that calms you. This might be listening to music, playing with a fidget toy, or diffusing essential oils. Direct your attention to the stimuli and meditate on that instead of whatever is overwhelming. Utilizing sensory tools or toys can help keep the focus on the sensory approach. Here are examples of tools that may be helpful in each category.
Jump to: Touch | Taste | Sound | Sight | Smell
Tactile (touch)
Oral (taste or mouth)
Audible (sound)
Visual (sight)
Olfactory (smell)