Help Loved Ones Prioritize Their Wellbeing This Holiday Season
Image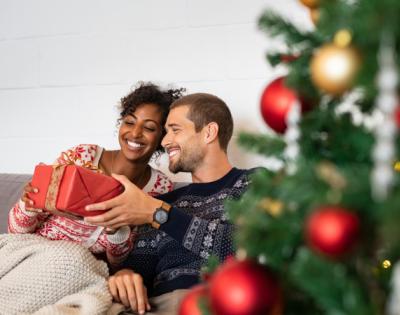 It's the holiday season! During this time of year, one form of celebration is giving to others. For some, this is their time to shine (shoutout to those who have gifts as their top love language 😉), and for others, it can cause more stress than necessary. This season, make your giving easier by choosing a theme, like mental health, to focus your gifts around. Show your loved ones that you want them to prioritize their well-being with presents that promote mental health and encourage acts of mindfulness. Here are a few suggestions for self-care gifts:
Daily Inspiration
Journals
Keep the self-care going with gifts that keep giving! Taking up journaling as a practice can create other meaningful habits. Journaling allows people to have a designated space to voice their emotions and daily experiences without guidelines or judgment. You can get a cute journal at any local bookstore or gift shop. You can personalize this gift by choosing a design you know your loved one will appreciate, like their favorite movie or a cute quote on the cover.
Affirmation Cards
A deck of affirmation cards or inspirational quotes will offer your loved one something they can open daily. The self-care can keep going all year! Find affirmation decks at bookstores, boutiques, or make your own at home. You can grab this gift quickly when you're out shopping or personalize it by making it yourself.
Self-Care Books
Do you have a loved one unsure where to start with self-care? Gift them a book that lays it all out for them! There are books across the spectrum of self-care, from beginners to experts. You can get books on meditation, everyday self-care practices, setting boundaries, creating healthy habits, workbooks, funny guides, and so much more. Whether your loved one is spiritual, religious, or neither, you'll be able to find something for anyone. These books are becoming so common that most bookstores have a whole section just for self-care!
Blankets
Weighted Blankets
Weighted blankets can provide safety and help alleviate anxiety in children and adults. Many say using a weighted blanket feels like a "constant hug." 
Cozy Blankets
For the people who don't like weighted blankets, gift them a nice fuzzy throw. Everyone loves a good blanket!
Tip: Blankets come in tons of different materials. Some people love sherpa, and some people hate it. Make sure to get your loved one what they like.
Good Smells & Good Vibes
Essential Oil Diffuser
Essential oil diffusers can bring peace and serenity. Pair the diffuser with some stress-relieving oils such as lavender or bergamot. Like that, you have a great gift that can help anyone sit back, relax, and enjoy quiet time. 
Candles
Make your loved one's life a little cozier with a candle! A pleasant scent and some soft light are sure to relax any home.
Tip: Make sure to get a scent that isn't too overwhelming. No one wants a candle they can't stand the smell of.
Light Therapy Lamp
A light therapy lamp is an incredibly thoughtful gift if you have a loved one impacted by seasonal affective disorder, or seasonal depression. Light therapy lamps mimic outdoor light and can provide a little "sunshine" on a cloudy day. 
Crafts
Adult Coloring Book
Gifts that are a creative outlet, like coloring books, provide people with an activity that helps them disconnect from the stressors and noise of everyday life. Another category of self-care gifts that is becoming increasingly popular, you'll be able to find these in lots of places with a variety to choose from. Don't forget colored pencils! 
Other Hobbies
If you know of a hobby your loved one enjoys or wants to take up, you've got a gift! For someone who likes to knit, buy them some yarn, needles, or new patterns. For someone who wants to take up embroidery, get them string, hoops, or a starter kit. The possibilities are endless!
Something Delicious
Tea
Preparing a cup of stress-relief tea, like chamomile or peppermint, is a small self-care ritual that can go a long way. You can grab a box on your next grocery store visit, make a special trip to your local tea shop, or go all out and get a tea box subscription.
Comfort Food
Food can be a comfort for many people and make a great gift, especially for little things. Most people have something special they love, like chocolate, cheese, or little candies. The holidays are the best time to make life a little extra special.
Tip: There's a difference between overindulging and having a little treat. Don't go overboard!
Subscription Services
Meditation App
Purchasing a year-long subscription for someone is a unique gift that shows you care. There is a lot to choose from depending on your loved one's interests and self-care needs. An app to help with guided meditation is the perfect gift to help promote mindfulness.
Examples: HeadSpace, Calm, Simple Habit, Oak
Fitness Subscription
A gym membership or membership to an app with workouts and health data can promote a lifestyle of health and wellness. Staying healthy is an essential part of mindfulness. If you're loved one already goes to a gym, get them a certificate or gift card to cover a few months or a year. If they're looking for something more private, purchase a membership to an app with personalized workouts.
Meal delivery
Help make life a little easier with a meal delivery service. Cooking can often feel like a daunting task that always needs to get done. A meal kit shows up at the door with all the ingredients required and instructions for an easy home-cooked meal. It's an excellent gift for those busy people in your life.
Examples: HelloFresh, Blue Apron, Home Chef
Spa Items
Bath Relaxation
Help your loved one unwind with bath-related gifts. Calming epsom salts, a good-smelling bubble bath, or a fizzy bath bomb can take a relaxing tub to the next level.
At-Home Spa Day
Self-care is key to good mental health. One way to practice self-care is through relaxation. You can give the gift of relaxation with items for a little at-home spa treatment. You can buy countless beauty products at any store, including face masks, eye masks, foot scrubs, lotions, and so much more!
Massage Certificate
It's always a great idea to buy something that your loved one wouldn't usually buy themselves. Many self-care gifts can fall into this category, but one great one is a massage. Find a local massage therapist and grab a gift card for a great surprise!
Share self-care with others and give it to yourself, too! The holiday season can bring on stress and worry, so don't be too hard on yourself about finding the perfect gift. No matter what you decide to give this holiday season, remember that one of the most impactful and meaningful gifts of all is your support.