4 Mental Health Challenges Employees That Cause Stress at Work and How Employers Can Help
Image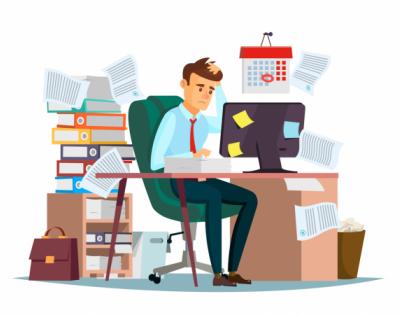 The average person will spend 90,000 hours at work over their lifetime. That is equivalent to 11,250 8-hour workdays. It's safe to say that your job and workplace can have a considerable impact on your mental health and quality of life. If employees are experiencing a lot of stress at work, they're bound to be unhappy. 
In a 2021 Work Health Survey conducted by Mental Health America (MHA), they set out to provide an opportunity to better understand four different mental health challenges that employees face in the workplace.
Mental Health Challenges Employees Face
1. Financial Insecurity
With numerous workplaces adapting or closing completely in recent years, many employees have faced concerns over their financial security. Financial insecurity has an impact on our self-worth, motivation, and mental health.
According to the U.S. Department of Labor, between February and June 2020, the number of unemployed individuals increased by 15.9 million. In addition to living paycheck to paycheck, many employees struggle to afford healthcare costs and save for emergency expenses. MHA's 2020 Work Health Survey stated "nearly 34 percent of respondents report that they are unable to afford their health care costs. Employees often struggle to pay premiums and cannot afford additional co-pays, out-of-pocket expenses, and out-of-network costs necessary to access needed care." When we are overwhelmed with financial worries, how can we be present in the workplace? Many cannot, and are pushed deeper into stress and uncertainty.
To learn about financial services provided by The Village Financial Resource Center, visit HelpwithMoney.org.
2. Employee Burnout 
Emotional exhaustion is one of the earliest signs of burnout. If you are feeling emotionally drained after a day of work, you are at a higher risk of workplace stress. According to MHA, nearly 83% of respondents felt emotionally drained from their work. In addition, emotional exhaustion can lead to more serious issues like anxiety and depression.  
MHA's findings support the premise that burnout is a threat to employee mental health regardless of company size, industry, or organizational rank. Some factors that contribute to burnout include long work hours, overwhelming workload, chronic staff shortages, an aggressive administrative environment, and lack of support from management.  
3. Supervisor Support 
Does your workplace offer enough supervisor support? About 59% of employees reported that they do not think their supervisor provides adequate emotional support to help manage their stress. It's vital that employers cultivate a workplace that supports its employees' emotional needs, now more than ever. If your workplace culture promotes supervisor support and guidance to help employees better manage their stress, employees feel more motivated to perform their jobs well.  
Factors that contribute to employees feeling supported at work: 
Regular supervisor initiated check-ins 
Communication with supervisors about stressful things at work 
Knowledge of company resources and support
4. Workplace Stress and Mental Illness 
MHA's findings show that almost 9 in 10 employees agreed that their workplace stress affects their mental health. Workplace environments have drastically changed over the last few years with shifts to hybrid and remote working conditions. Many employees are now sharing a workspace at home with their children or spouse, and their at-home work environment may not be equipped with appropriate technology. 
Considering the impact a workplace culture has on employee mental health is key in providing a mentally safe work environment. When employees suffer from too much stress in the workplace, employee morale and work ethic declines, and some employees are pushed to look for new employment opportunities just to get a break. 
How can employers help? 
Provide a living wage with affordable employee health insurance, and/or access to HSA and FSA accounts. 
Address the early signs of burnout through intervention or workload adjustment. 
Be supportive and flexible by checking in regularly and offering realistic workplace expectations. 
Keep employees informed of policies and programs that support positive employee mental health, such as an EAP.
Forming a safe, supportive, and communicative work environment can make all the difference in employee satisfaction, retention, and safety. If your organization is interested in creating a healthier workplace, our Employee Assistance Program provided through The Village Business Institute can help. To learn more about The Village's EAP impact and opportunities, you can call 1-800-627-8220.