Clients of First Step Recovery Explain What Recovery Means to Them
Image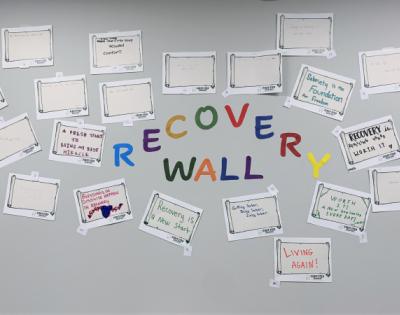 September is Recovery Month!
Recovery Month is the perfect time to recognize what recovering from substance use really means. Take a closer look at the effects of addiction and celebrate those who have started on the pathway to long-term sobriety. The Village's First Step Recovery program provides a caring environment for adults struggling with substance use disorders.
Slogan Contest
This month, First Step is celebrating Recovery Month in a number of ways. One of those ways was a slogan contest. The First Step team set up a wall in their office where clients could write their ideas for a recovery slogan, highlighting what recovering really means to them. The completed wall included these mantras:
Gaining the feeling of control of myself
A fresh start to being my best miracle
Worth it, a new beginning EVERY DAY!
Recovery is a new start
Getting sober, being sober, living sober
Discovering who I truly am
Live the life of courage, hope, and joy
Regaining freedom
Living my best life
Recovery gives you a chance in life
Let go of your past, embrace today
Realizing you're WORTH IT
If not you, then who else?
Reclaiming your life from addiction
Sobriety is the foundation for freedom
Life is tough, make changes, make progress
Honest, open, committed, proud
It means your life is ready to begin…again
Pathway to recovery is one step away
This time the first step included comfort
Blessings in disguise happen in recovery
Living again!
Village employees then got to choose their favorite slogan. "A fresh start to being my best miracle" got the most votes. This phrase expresses what the journey of recovering from substance use means to those affected. Taking the first step toward recovery can offer a fresh start for a new chapter in life.
Image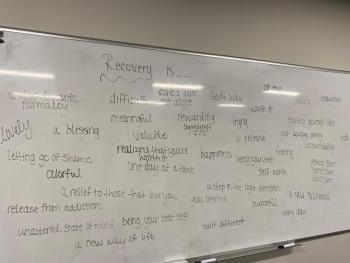 Recovery Is ...
First Step has done a similar exercise with clients as a way for them to give words to what their journey is like. They were prompted to finish the sentence "Recovery is ..." and there was no shortage of responses. Recovering can mean a lot of different things. It can be difficult, beautiful, trying, freeing, and so much more.
Take The First Step
First Step Recovery, a program at The Village, provides outpatient treatment for people who are struggling with substance use. Learn more at TheVillageFamily.org/FirstStep or call 701-451-4900.