Recommended Books for Kids and Adults to Help Paint an Important Picture
Image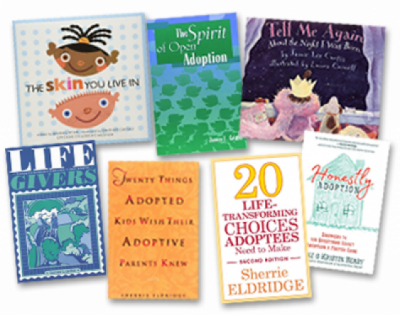 Adoption can be complicated, beautiful, challenging, rewarding, consuming, humbling, and above all, life-changing. Adoption can help fulfill a family's dream of raising a child and another family's dream of giving their child more. Adoption can cause uncertainty and can be painful for all as the process is built on people's experiences of loss. Questions often arise from all three parties of the adoption. Birth mothers wonder if they have done the right thing and worry about others' perception of them. Adoptive parents wonder about how parenting is different by adoption than by birth. As children grow, they often wonder, "Why did you choose me?" and "Why did my birth parents let me go?"
Adoption is a process that will challenge you, but also change you for the better. These recommended books, for children and for parents, help paint the important picture that is adoption.
Adoption Books for Kids
"The Skin You Live In" by Michael Tyler and David Lee Csicsko
This book celebrates how special adoption and diversity are. Its rhyming nature and pictures make it the perfect book for young children.
"Tell Me Again About the Night I was Born" by Jamie Lee Curtis
This special read is about the joy and love that comes with parenthood, and it provides an opportunity to share hospital experience and connections made with the birth family.
Adoption Books for Adults
"Twenty Things Adopted Kids Wish Their Adoptive Parents Knew" by Sherrie Eldridge
This book is perfect for parents to explore as their children grow. It covers how each child has unique emotional needs, and how to have difficult conversations with your child about their birth family, fear of abandonment, or unresolved anger.
"The Spirit of Open Adoption" by James L. Gritter
This book will teach the reader about open adoption and how this practice puts a child's needs first. Creating a firm foundation for a child in adoption can mean involving both birth and adoptive families to help your child grow into a healthy and complete person.
"Honestly Adoption: Answers to 101 Questions About Adoption & Foster Care" by Mike and Kristin Berry
This book responds to 101 questions about adoption and fostering, and not just the "pretty" ones. This book accepts that adoption and fostering can be complicated and complex, but that love can help empower your children to embrace their identity and love themselves.
"20 Life-Transforming Choices Adoptees Need to Make" by Sherrie Eldridge
Deciding to adopt a child is a lifelong journey, and this book helps readers address topics and concerns that a parent-to-be might have. Readers are challenged and encouraged to grow by making their own unique choices on their journey to and through adoption.
"LifeGivers: Framing the Birth Parent Experience in Open Adoption" by James L. Gritter
People often have a positive perception of adoptive parents, and a less positive perception of birth parents. This book challenges perceptions and stereotypes of birth families, and shows that the members of both families are crucial and deserve honor and respect.
This list of books was compiled by our Pregnancy Counseling and Adoption Services staff; for more suggestions, visit our Recommended Reading webpage. If you are interested in learning more about our Pregnancy and Adoption Resources, contact us online.