IOP Helped Joshua Learn It's OK to Not Be Perfect
Image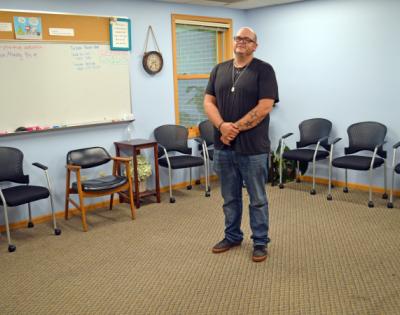 Joshua Grondahl has had many losses in his life. Even at a young age he suffered from depression. He attempted suicide in sixth grade. The years 2015 to 2017 came many hardships. He lost his dad. His house burned down. He divorced. He felt the ultimate low and knew he had to do something before going down another dangerous path.
Joshua participated in The Village's Intensive Outpatient Program (IOP), a program in which clients receive education and support, develop coping skills, and problem-solve life's ongoing stress and challenges in a group setting.
Joshua says The Village taught him that it's OK not to be perfect.
"It's not just, 'Here are the skills and use them.' They have different skill-sets for different types of people. It's very individualized. Music is a big one for me," Joshua says.
Education covers areas specific to client diagnosis and needs, such as wellness, medication management, self-care, relationships, communication, mindfulness, and safety planning. In addition to supporting clients, IOP is available to educate and support family and friends, as the client needs and wants.
Dialectical Behavioral Therapy (DBT) is a skill that Joshua has used in some difficult life conversations. It helped him realize he doesn't always have to make others happy.
The program has moved him to start giving motivational speeches, his first one being at his 10-year high school reunion. He wants to give speeches to kids, teaching them that they are not alone.  
"I've come a long ways from where I was," Joshua says. "(IOP) is so helpful. If you need it, do it. If you even think you need it, do it. Whatever you need, they can find a way for you to cope with it."
IOP is offered for three hours a day, three days a week. Program length varies on individual progress. For more information or an IOP assessment, call 701-451-4900 or contact us online.