Podcasts, Books, and Influencers to Help Grow Your Finance Knowledge
Image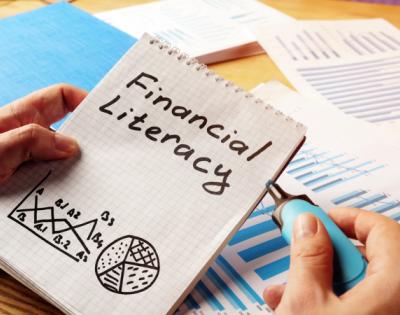 It's never too late to educate yourself on how you can improve your financial future. Our Financial Resource Center created a comprehensive list full of advice and education on how you can make the most of your money and set yourself up for financial success. Whether you're in debt, need help budgeting, or want to increase your credit score, these financial literacy resources are a great start.
Personal Finance Influencers on Instagram 
Many people don't have a lot of time to dedicate to learning everything there is to know about financial wellness, and that's why following a financial influencer on Instagram is a great first step. Next time you have a moment to scroll, check out these accounts for advice on goal-setting, investing, budgeting, and upping your credit score. 
Financial Podcasts 
Tuning in to a podcast is an easy way to learn more about finance in a short amount of time. It can be as simple as dedicating your morning commute to an episode or pressing play when you're doing chores around the house.
"How to Money"
Money advice and information geared toward millennials. If you're trying to get a handle on your finances for the first time or learning how to budget after college, this is a good choice for you. 
"You Need a Budget"
Quick takes on how you can stay motivated to reach your financial goals. This podcast is perfect for those who do not have much time to devote to listening, and most episodes are only 5 to 10 minutes long. 
"Marriage, Kids and Money"
Parents who are juggling life, their finances, and children. Raising kids can add a wrinkle to money management, and this podcast addresses some of the special challenges faced by parents.
"Friends Talk Money"
Retirement and financial planning advice for those age 50 and older. This podcast brings together three nationally known personal finance experts to tackle topics that are on the minds of those approaching retirement age. Episodes cover topics such as estate planning, Medicare, and retirement lifestyle choices. 
Personal Finance Book Recommendations 
Reading more and figuring out your finances might already be on your list of goals for 2021, so why not kill two birds with one stone? These 4 picks lay a foundation for topics such as investing, budgeting, and saving for retirement.  
"Women & Money" by Suze Orman
"Investing for Kids: How to Save, Invest and Grow Money" by Dylin Redling and Allison Tom 
"The Financial Diet" by Chelsea Fagan and Lauren Ver Hage 
"Retire Before Mom and Dad" by Rob Berger
---
In addition to these resources, speaking with a trusted financial counselor can help provide you with the peace of mind and support necessary to take control of your money. No matter what stage you're at in life, The Village Financial Resource Center has the tools you need to successfully execute a financial action plan that works for you. Our confidential financial counseling is accessible by phone, in-person, or online. A financial review may even be covered by your employer's Employee Assistance Program. To get started, call 1-800-450-4019 or contact us online.