The Perfect Combination for Supporting Youth
Image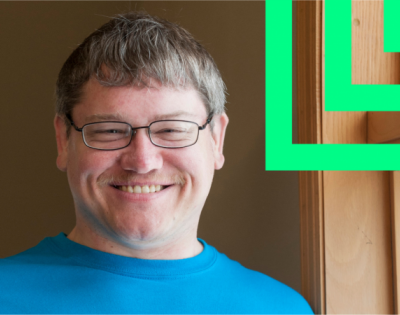 Josh Luhman jokes that he bowls for a living. His day job is actually at Hornbacher's Village West store in Fargo, where he bags groceries, wrangles carts, and loads cars in the drive-up lane. Josh has been working at Hornbacher's for about a decade, after a placement through Connections, a nonprofit that helps people with disabilities find employment.
Three nights a week, though, you'll find Josh at either All Star Bowl or Sunset Lanes, both in Moorhead. He started bowling as a teenager because it was something fun to do.
Why Bowling?
When asked why he likes to bowl, Josh says it's because "You don't have to be a pro." Plus, he adds, "I'm a better bowler than a golfer."
Josh's love of bowling, his job at Hornbacher's, and a desire to help kids coincide each spring during Bowl for Kids' Sake, a signature fundraising event for Big Brothers Big Sisters.
A Bowl for Kids' Sake Leader
For several years, Josh has been one of Bowl for Kids' Sake's top fundraisers, usually raising over $1,000 in donations. In 2018, he raised $1,264.86 – he's quick to correct you if you leave off the change – plus a $100 company match.
In addition to asking his family for donations, Josh hits up every bowler at the Moorhead bowling alleys he frequents. He records each gift on pledge sheets that have room for 10 names. He often fills more than a dozen sheets with donor names for Bowl for Kids' Sake.
A BIG Heart
"What impresses me the most about Josh is his kind, generous heart," says Susan Smith, Big Brothers Big Sisters Program Director.
"To go person by person raising so much money from so many individual people just because he believes in us. … It's just an immense blessing to have someone who's that invested in the work we do."
When you ask Josh why he goes above and beyond for Big Brothers Big Sisters and Bowl for Kids' Sake, his answer is straightforward: "Because of the kids," he says. "I like raising money for them," he adds. "It's a good cause. The kids deserve it. It helps them out with life."
Josh also supports the United Way, contributing a dollar from each paycheck and taking part in "jeans days" at the store. That and Bowl for Kids' Sake are the two charitable drives he supports.
Considering Josh's love of bowling and Hornbacher's longstanding support of Big Brothers Big Sisters, Bowl for Kids' Sake is a "perfect combination," Josh says. You could say it's like a perfect 300 game.
---
Big Brothers Big Sisters is 100% funded by donations. You can make a gift to the program online here.