A List of Books Recommended by Our Therapists
Image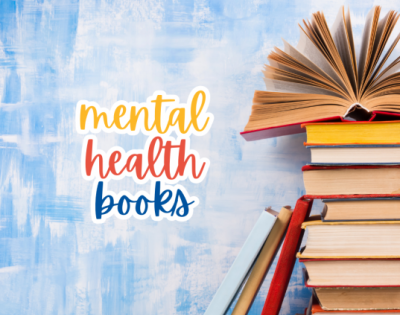 To celebrate Mental Health Month, we asked our therapists to give recommendations for books related to mental health. Looking to improve your everyday life? Want to learn more about different mental health issues? Diving deeper into the art of therapy? Healing from trauma or addiction? Raising little ones and want to get them started off on the right foot when it comes to mental health? Our providers have great suggestions for all of that! Here are the mental health books they recommend.
No matter where you are in your mental health journey, there's a book to help you. Choose the route that best suits you by skipping to books focused on: 
| | | |
| --- | --- | --- |
| Daily Routines | Therapeutic Steps | Specialized Pathways |
| | | |
| | | |
For smaller wanderers: Mental Health Books for Kids
Click on the book cover for more info, and click on the title for the Amazon listing, or check your local bookstore.
Self-Improvement
Daring Greatly: How the Courage to Be Vulnerable Transforms the Way We Live, Love, Parent, and Lead
by Brené Brown

A practice and a powerful vision for letting ourselves be seen. In a world where "never enough" dominates and feeling afraid has become second nature, vulnerability is uncomfortable, but nothing is as uncomfortable, dangerous, or hurtful as wondering what it would be like if we had the courage to step up and be vulnerable.

Set Boundaries, Find Peace: A Guide to Reclaiming Yourself
by Nedra Glover Tawwab

Simple-yet-powerful ways to establish healthy boundaries in all aspects of life. Learn how to end the struggle, speak up for what you need, and experience the freedom of being truly yourself.

The Happiness Trap: How to Stop Struggling and Start Living
by Russ Harris

Most of us go about trying to find happiness in ways that make us miserable, driving the epidemics of stress, anxiety, and depression. This empowering book presents the insights and techniques of ACT (Acceptance and Commitment Therapy) to help you escape the happiness trap and find true satisfaction in life.

Hold Me Tight: Seven Conversations for a Lifetime of Love
by Dr. Sue Johnson

A revolutionary way to see and shape your relationships. The ideas in this book are based on the science of love and the wisdom of Emotionally Focused Couple Therapy (EFT), and walk the reader through seven conversations that can define a love relationship.

How to Keep House While Drowning: A Gentle Approach to Cleaning and Organizing
by KC Davis LPC

Introducing six life-changing principles that will revolutionize the way you approach home care—without endless to-do lists. Presented in short, readable chapters, this compassionate guide will help you begin to get free of the shame and anxiety you feel over home care.




How to Meet Your Self: The Workbook for Self-Discovery
by Dr. Nicole LePera

In this workbook, you'll learn how to get out of negative patterns, how you can create new core beliefs, how to become more connected to your mind, body, and your true authentic Self, better understanding your emotions, and how to understand your own unique values and how to develop authentic Self expression.

The Body is Not An Apology: The Power of Radical Self-Love
by Sonya Renee Taylor

A book about radical self-love as the balm to heal wounds inflicted by systems of oppression. Make peace with differences and reconnect with your body and mind.

The Four Tendencies
by Gretchen Rubin

People fit into Four Tendencies: Upholders, Questioners, Obligers, and Rebels. Our Tendency shapes every aspect of our behavior, so understanding this framework lets us make better decisions, meet deadlines, suffer less stress and burnout, and engage more effectively. The Four Tendencies explain why we act and why we don't act.
Mindfulness