Options, Resources, & Support for Teenagers Facing an Unintended Pregnancy
Image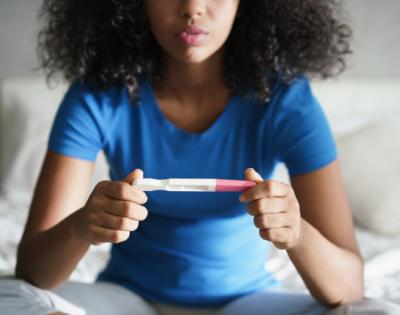 1 in 4 American teenagers will experience a teen pregnancy.1 Finding out you are pregnant or becoming a teenage father can be extremely overwhelming. You may feel confused, scared, happy or excited. All of these emotions are normal and may change many times before birth. You may have difficulty speaking to your parents about becoming a parent yourself. They may have their own thoughts, wishes, or advice.
In the end, it is ultimately your decision and you are the person who needs to feel comfortable with what you choose.
What choices are available to you?
Some young women find it difficult to reach out or seek advice about their pregnancy. They may be concerned about judgment from others or in disbelief. It's important to connect with professionals to help guide you through this difficult time.
The first trimester, or the first three months, of your pregnancy is a critical time. Your baby is growing and developing rapidly and is most at risk from smoking, alcohol, and drugs. Teenage mothers are at a higher risk for complications during childbirth and pregnancy and are more susceptible to postnatal depression.
If you are pregnant, there are a multitude of options available to you. You may be in a position to parent with the child's other biological parent or your current partner. There are also the options to parent on your own with assistance from your support system, continue the pregnancy and choose to create an adoption plan for your child, or end the pregnancy.
Decision Making
Choosing an option for you and your child's future may seem daunting. There are a few questions you may want to think over before considering what option works best for you.
Do you have the support of the child's other biological parent or a current partner?
Do you have the support of your friends and family members?
Do you have a safe living environment for your child?
What does being a parent mean to you?
Are you prepared to support your child emotionally and financially?
Can you place your child's needs in front of your own?
How will this decision affect your future?
Challenges of Being a Teenage Parent
The responsibilities of being a parent with school, work, and a social life can be exhausting. Finding a job that will work for you and your child's schedule could be difficult to come across. Childcare can be a challenge financially; in the United States, childcare can cost upwards of $250 per week for one child. You may find it difficult to finish your education if you have not already. Your support system may be able to help you in obtaining your high school diploma, GED, or any higher education that interests you. There are opportunities to take night classes or complete classes online. As a teenager, your social life is important to you. This may be another challenge you face. There may be times when you cannot participate in activities with your friends and you might feel like you are missing out on your teen years.
On the other hand, there are positives about becoming a teen parent. You will have all the energy required to run and play with your child. It may also be easier for you to engage with your child because there is less of an age/generation gap. You will also be able to watch you and your child grow together throughout the years.
Resources and Support for Teen Pregnancy
There are supports available to you and your child. You may be able to seek assistance from friends, family members, or community agencies and resources.
1 Power to Decide (formerly The National Campaign to Prevent Teen and Unplanned Pregnancy). (2016). Teen Pregnancy in the United States. Washington, DC: Author