Staff of The Village Business Institute share their expertise on a variety of issues related to well-being and the workplace through regular online training sessions. To register for an upcoming webinar, visit our Eventbrite page.
To schedule a personalized training for your team, or to have The Village Business Institute create a customized topic, call 1-800-627-8220 or email us.
---
Supporting Mental Health in the Workplace
Mental well-being is a critical aspect of a person's life that can significantly impact both home and work. In recent years, mental health challenges have become increasingly prevalent, and people are now more open to discussing mental health issues. In this webinar we talk to Fargo's Regional Program Supervisor, JoDee Knipfer, about ways to support one another and oneself on the journey to achieving mental well-being.
---
"Have you read…?" A Professional Development Resource Discussion
So many books… so little time. Most of us have a pile of books (piles?) that we fully intend to read, but don't always get to. Join us for this free webinar as we discuss some of our favorites in the realm of professional development and workplace dynamics.
---
Transitions are Hard - Strategies to Make Them Easier
Change is an unavoidable part of life, even though many of us find it challenging. Learn the reasons why change can be hard, including the emotional, psychological, and practical aspects that contribute to our discomfort. By understanding these obstacles, we can proactively address them and develop practical approaches to handle transitions with greater ease.
---
While it may be simple to request and obtain time off, fully disconnecting and rejuvenating during vacations can be challenging. Learn about the significance of taking genuine breaks from work and gain valuable insights into effective strategies for optimizing your Personal Time Off (PTO).
---
Take Pride: A Chat About LGBTQIA+ Challenges
Knowing how to show respect and acceptance for one another is paramount. This webinar discusses the challenges people face when they identify as LGBTQIA+ and what we all can do to make our workplace accepting, safe, and supportive. 
---
The Changing Face of Leadership 
In this time of divisiveness, relationship-centered leadership is proving to be a cornerstone in successful management strategies. This webinar discusses the schema shift and strategies for embracing the team's power and moving toward a more emotionally-fulfilling work environment.
---
Neurodiversity in the Workplace 
The word "neurodiversity" is showing up more frequently in business magazines and HR materials—what does it mean? How does it show up? Why does it matter? In this free webinar, we define, discover, and discuss the continuum of how people experience life and explore ways to embrace and maximize the value of different ways of seeing the world and our work.
---
 The Other Bottom Line: Enhancing Company Culture
When we talk about the bottom line, we know we are talking about finances, revenue, and profitability, but there's another bottom line that might be even more important. Trust, team camaraderie and belonging are cornerstones in any successful business. It takes purposeful commitment and dedication of time and resources to create a culture where individuals thrive and create engaged and productive teams. Join us for a discussion on how to bring this bottom line of culture to life and hear examples from businesses who are intentional about creating a culture that helps meet all their goals.
---
Everywhere you turn today, DEI, IDEA, EID, or some other variation of these letters is discussed in an article, blog post, podcast, or compliance conversation. This session will define those letters and establish "the big deal." Join Village Business Institute Trainer Susan Williams for this free webinar to learn about behaviors and dive deeper into how our implicit bias shows up in our languages and how we can respectfully share knowledge about why words and phrases can be offensive.
---
Tragic Times: Navigating Suicide and the Workplace
Suicide is hard to talk about. Hard to understand. Hard to accept. But we still need to talk about it and seek to understand. In this free webinar, we will discuss the realities of life that can lead some to suicide and, more importantly, how we can be helpful to those who are struggling.
---
In preparation for the New Year, we are naturally in a place of optimism and intentionality. We also are glaringly aware that it is easy for this attitude to drop off when challenges arise. In proactively creating our plans through a growth mindset mentality, we are much more likely to restabilize when we are faced with situations that tempt us to fall back to our normal patterns. Join Village Business Institute Trainer Susan Williams for this free webinar to learn about establishing a mindset that can set you up for success launching into the new year.
---
 Practical Gratitude: Expanding Your Language of Appreciation
Explore realistic ways to bring gratitude into the workplace and beyond. In this webinar, viewers will learn techniques to recognize opportunities for showing gratitude, gather language ideas to personalize appreciative comments, and enhance team dynamics through intentional recognition for the full group as well as person-to-person.
---
Navigating Conflict in the Workplace
In the workplace, people disagree and disappoint each other and that can be awkward, uncomfortable, and unproductive. It can also create opportunities for organizational awareness and personal growth. Conflict in the workplace is inevitable, but it doesn't have to be damaging. Join Village Business Institute Trainer Susan Williams for a free webinar to learn strategies to mitigate conflict and handle it with optimism and grace when it surfaces.
---
Productivity Hacks for Your Workday
Employees are constantly on the lookout for ways to get more done in the hours of their workday and/or to do so with less stress. Join us for this FREE online training where we will delve into the world of productivity, how to sidestep distractions and learn creative ideas for ways to increase productivity in a healthy manner.
---
Mindful Leadership Through Transition
In this time of significantly increased turnover, office moves, and organizational restructuring, leaders are called not only to navigate their own feelings about these changes but also to lead with optimism and confidence for their teams. This online training facilitated by Village Business Institute Trainer Susan Williams looks at how change affects leaders and how you can bring your leadership skills to a new level.
---
Find Your Summer Balance with Purposeful Boundaries
Summer months are often filled with beautiful weather, vacations, and family games/activities, all of which lead to a higher than average amount of distraction. This training explores ways that employees and employers can create boundaries that will allow you to enjoy all the fun that comes with the summer while also not increasing the feeling of guilt of this imbalance or sacrificing productivity.
---
Navigating the Balance of Work and Caring for Aging Parents
Though often unspoken, the weight of caring for parents as their health declines plays a significant role on life stress and naturally spills over into both work productivity and attendance. This training explores the challenges of the process and shares supports available to both individuals in new levels of caretaking roles as well as those who employ them.
---
Let's Get Moving! Physical Activity within the Workday
Whether at home or the office, most employees sit for far too long each day. Join us for a strategy-filled training on ways to break the habit of the "8-hour sit." Identify the challenges of a desk job and its impact on our bodies, productivity, and focus. Explore a wide variety of opportunities to break the cycle of sitting, both during breaks as well as while still on-task at the job.
---
Substance Abuse and its Impact on the Workplace​
With the rising amount of stress and anxiety in our culture, we are also experiencing a rise in substance use as a coping mechanism. This session explores ways in which this reality directly correlates with both productivity and relationships within the work setting and provides resources for both colleagues and HR professionals in navigating this delicate topic.
---
Employee turnover is costly to businesses and organizations, with significant fiscal complications and impacts on staff morale. In this training, we identify strategies that can not only retain current team members but can strengthen your workplace culture as a whole.
---
Burnout & Fatigue: Building Resilience with Self Care​
Whether you've been in the workforce for years or just entered, taking care yourself is key. Join us in learning what causes burnout and fatigue and how to build resiliency with various self-care techniques.
---
Setting your vision for the year ahead can be a daunting task, especially in this time of so many unknowns and additional stressors. This training explores how to recalibrate your personal and professional goals to be achievable and your mindset to be aligned with those intentions. Examine the common factors of unmet goals and learn strategies for creating incremental successes throughout the year. 
---
The idea of toxic positivity is that no matter how difficult a situation is or how great the struggles an organization is going through, people are expected to maintain a positive mindset. While positivity is good for an organization, toxic positivity rejects difficult emotions and only focuses on upbeat emotions, which can create an environment of artificial harmony. This training examines what toxic positivity is, how it can affect an organization and ways to deal with toxic positivity that does not negatively affect an organization.
---
Reducing Implicit Bias in Recruiting
We all want to hire the best candidate, but is our implicit bias getting in the way? In this training, participants learn about implicit bias in recruiting, how biases can hold back from recruiting and hiring the right candidate, and discuss how to reduce implicit bias in recruiting and hiring processes.
---
Half of all employees have issues trusting leadership. Communicating with transparency not only builds trust, it can assist in creating a happier and more engaging work environment. This Business Bite training session discusses the importance of transparent communication in the workplace and how leaders can create a transparent working environment. 
---
Mental Health and a Post-Pandemic Workforce
The COVID-19 pandemic has had and will continue to have a traumatic impact on employees' mental health, including higher rates of depression and anxiety. This Business Bite webinar examines the effect of the pandemic on people, why people are developing mental health-related issues, what signs and symptoms colleagues can look for, and how organizations can support the re-entry process.
---
Transition and change are inevitable. In this Business Bite webinar, learn how to understand the realities of change, examine the effects of stress on communication, and help your team through the transition back to the workplace.
---
Our mental health is key to our wellbeing because it can play a role in how we handle stress, relate to others, and make healthy choices. Sometimes, when people are struggling, they are reluctant to see a counselor for a variety of reasons that can limit a person's success. This Business Bite webinar goes straight to the source to address and dispel the stigmas related to counseling.
---
More than ever, we understand the importance of inclusivity, especially in workplace discussions. Learn strategies to address power dynamics, fear, and fragility and to create spaces where real dialogue can take place. This training is based on "Inclusive Conversations: Fostering Equity, Empathy, and Belonging across Differences" by Mary-Frances Winters.
---
How a Sense of Belonging Creates Stronger Organizations
One of the most significant ways to build and maintain a strong organizational culture is to help members of your organization build an emotional connection to the people and the company. This can also be known as creating a sense of belonging, where people feel connected, supported, accepted, valued, and respected. The training session examines what it means to have a sense of belonging and how it can affect an organization; considers the key components needed to develop a sense of belonging; and outlines ways leaders foster an environment that is conducive to creating a sense of belonging in employees.
---
This webinar explores the role empathy plays in creating happier, healthier, and more effective organizations.
---
The pandemic has brought to light a struggle that most every person deals with … procrastination. While we may think that procrastination is a time management problem, it may be a sign of something deeper. This training session examines what procrastination is, how it can affect us, and what we can do to stay active to maintain a level of effectiveness while taking care of ourselves.
---
There is a new generation of employees entering the job market and they have to potential to reshape the culture of an organization. In this training seminar, we are going to examine who Generation Z is and how they can impact the workplace. We will look at how organizations can attract and retain these employees.
---
Domestic Violence and the Workplace
Although domestic and family violence may be happening outside of work hours and not inside your workplace, those living with violence in their home can suffer in a variety of other areas in their life. This training shares how you can recognize and respond appropriately to employees, colleagues or clients who may be showing signs of domestic and family violence, and how you can refer them to appropriate supports available and assist in supporting safer communities.
---
Many times, we are thrust into a positional leadership role which can inhibit team success. This training session shares seven ways to develop leadership skills so you can empower your teams, create buy-in, and fuel success for years to come. 
---
Do you ever wonder how your co-workers can remain optimistic and bounce back from yesterday's stressors? With this past year being one for the history books let's discuss the importance of resiliency and putting it into practice. In this training, you will learn how to define resiliency and put its components into practice. 
---
Have you ever felt guilty taking a personal call at work, or a work call at home, because you are trying to balance all aspects of life? Are your attempts to balance the various aspects of life leaving you feel more stressed? This webinar introduces the idea of work-life blend, a concept that focuses on integration instead of compartmentalizing.
---
We each have our own idea as to what respect is. In today's world, it is important to be able to communicate and connect authentically. Learning how to use the Platinum Rule and Platinum Communication will help you transform your thinking and creates new possibilities. This Business Bite presentation discusses the importance and need for respect in the workplace and how the Platinum Rule can transform our work culture.
---
How to Be Successful When Goal Setting
Every New Year brings new personal and professional goals. This Business Bite training seminar shares what we can do to improve our chances of successfully completing these goals. He breaks down the SMART goal concept and outlines some techniques that will allow us to successfully complete our goals for the new year.
---
The greatest influencer of our attitude is us. We get to choose how we see the world, how we interact with the people around us, and the impact that we have on our co-workers. This Business Bite seminar examines the influence of our thoughts, beliefs, and attitudes. Participants consider some techniques for developing and maintaining a positive mental attitude and examine how to embody positivity and how this can influence the culture of an organization.
---
As we enjoy the fall season, stories of kindness and gratitude begin to circulate. Why does this theme resonate so powerfully among us? Statistics show that expressing gratitude not only improves your ability to divert behaviors like fear, blame, and anxiety, it's also an important tool in driving workplace productivity. This Business Bite training talks about the importance of gratitude in the workplace and how to create a culture of gratitude in your organization.
---
How to Prepare for Holiday Stress: Jingle Bells or Bah Humbug?
The holiday season can be an incredibly stressful time for people. With increasing expectations, more obligations placed on our limited time, and family struggles, this time of year places a lot of pressure on people. This training identifies some of the bigger stressors we face during the holiday season, examines how holiday stress affects us, and outlines some techniques for preparing for and dealing with the holiday season and the stress that can arise.
---
Leading with Emotional Intelligence
As emotions ultimately drive performance, reading and influencing others' emotions are essential leadership skills. This Business Bite training session discusses what emotional intelligence is and how it impacts business and leadership effectiveness. Participants will learn how to boost social awareness by utilizing techniques for recognizing emotional states in others and how to enhance relationship management skills by using techniques for empathetic listening.
---
EAP: The Hidden Powerhouse in Your Organization
In today's work climate, an Employee Assistance Program (EAP) is arguably one of the most critical benefits for your organization and your employees, yet if you're not taking advantage of the array of services that an EAP offers, or your employees are unaware of the benefit, the program will be underutilized. Learn how to get the "best bang for your buck!" and ultimately, how to best serve your employees through an EAP.
---
Supporting Your Team's Mental Well-Being
Mental health and well-being of employees is key for an organization's success. This training looks into how you can help someone who may be suicidal, combat mental health stigma, support your team, and become more cognizant of their needs.
---
Effectively Communicating in Stressful Times
In times of heightened stress, communication issues can arise which can lead to misunderstanding and internal conflict. This installment of The Business Bite looks at the effects of stress on our communication, considers the barriers in our communication and explores what we can do to become more effective communicators through establishing boundaries and listening. 
---
Ways to Decrease Workplace Anxiety and Stress
Uncertain times heightens stress and anxiety. As employees around the world struggle to decide whether they should continue to work remotely or return to the office, how can supervisors and leaders support our staff through this disorienting time? This training discusses common reactions to uncertainty and helps the viewer understand its effects on the workplace. Learn what signs to watch for, as well as tools to support your team and decrease workplace anxiety and stress.​
---
Change consists of different stages, each of these stages affects us as individuals and organizations. This webinar examines how to address the stages of change and ways to move through change in a positive manner.
Image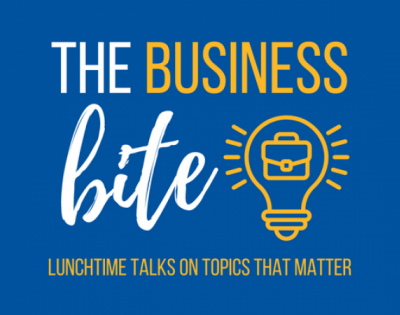 Webinars by Topic
Communication
Mental Health