A Story of a Big and Little Who Made The Perfect Match
Image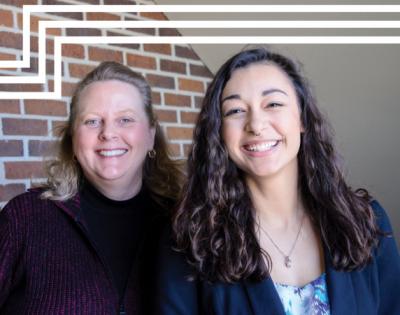 It was close to Mother's Day when Ruth Weber and Britany Williams headed out for their first get-together as Big Sister and Little Sister. They decided to drop by the Humane Society garage sale and let 6-year-old Britany choose a gift for her mom.
After passing over a variety of Mother's Day gift possibilities, something caught Britany's eye.
"I found this statue. It was of, like, a sewer rat with red glowing eyes, and it was really ugly," Britany said. "And I was like, 'I want to get this for my mom!'"
"And it lit up," Ruth said. "Not only did it have red eyes and it was grey and awful, but it lit up!"
"I thought I'd never hear from you ever again after your mom opened that," Ruth said to Britany.
Far from it. Ruth would be Britany's Big Sister for more than a decade. Now 18 years old, Britany has graduated out of Big Brothers Big Sisters, but she and Ruth continue a close relationship.
"I couldn't imagine my life without Ruth," Britany said.
The relationship would be eye-opening and life-changing for both of them.
Britany's home life was very different from the family life that Ruth had known. For one thing, Britany's father was out of the picture. "I've seen him probably six times throughout my whole life," Britany said. She saw drug abuse in her home and often lacked adequate parental supervision. At one point during high school, Britany's mother served time in prison.
Sometimes Ruth would be shocked by the happenings that Britany would describe to her. "And so we kind of had to do a rule that she couldn't tell me things…until we got to where we were going because I just about crashed my car several times," Ruth said.
Ruth says she wouldn't have made it as a Big Sister to Britany if not for the BBBS staff. "I didn't understand what I was dealing with," she said. She didn't understand why Britany sometimes didn't have the proper clothing or why she was hungry when she came over to Ruth's home. She just didn't understand why things were as they were for Britany. But what Ruth did understand was that Britany needed a stable influence in her tumultuous young life. And Ruth, a finance professional who thrives on organization and consistency, could do that.
Image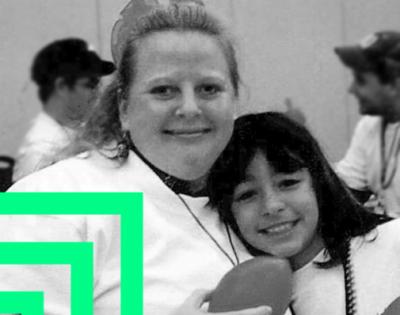 "I felt like I could just be that constant," Ruth said. "You know, I wasn't rollerblading with her. I wasn't the one doing all that crazy stuff that college kids did; I was repetitive. From two to four on Saturday I keep showing up, and you're like, 'You always keep showing up,' and I'd be like, 'Yeah, I'm here. I'm here.'"
That time meant a great deal to Britany.
"I just loved being with her," Britany said. "We could just go on the couch, sit down, and not even talk, and I would just love being in her presence. It was just nice to have an adult who would sit there and listen to me—unconditionally listen to me, like, look me in the eye and have nothing else going on but me."
There would be lots of those conversations and lots of shared experiences.
Once, BBBS participants were invited to a Boy Scout camp. There were a number of outdoor activities offered, including the opportunity to shoot a .22 rifle. Britany took to it like a natural. "And there was a bunch of old men; they were like all 85, with .22s," Ruth said. "And Britany gets up there and she gets her little gun and she hits the target and they're like, 'Have you done this before?'"
"You're only supposed to get five bullets," Britany said. "I think they gave me like 15. They just kept giving them to me." That night Britany and Ruth gathered with others around the campfire.
"It was a beautiful night," said Ruth, a nature lover. "The sun was starting to set…And I look over and there's a deer and a fawn off in the distance."
And Ruth said, "'Britany, look, there's a deer and a fawn." Britany leaned in and said, "'If I had my .22, I could get 'em.'"
"And I…thought, 'What have I done?'" Ruth said.
Through all the fun and silliness, Ruth was impacting her Little Sister's life. Britany said Ruth "opened my eyes to a whole new world."
"I think she gave me dignity," Britany said. "She just always showed me that life can be better than what it was…She just gave me hope, just showed me that…you can forge your own path. You can become your own person…You have the ability to do things, and you have the ability to make your future."
Today Britany is studying at Concordia College in Moorhead, Minn., majoring in biology and chemistry with a minor in psychology.
"I want to become an obstetrician, I know that for sure," Britany said. "I'm kind of thinking about doing neonatal surgery."
Ruth says she's so proud of the young woman that Britany has become. And reflecting on what Ruth has done for her over the years brought Britany to tears.
"You don't know how much of an impact you've had on my life," Britany said to Ruth.
Britany said she thinks of Ruth as a mother and told her, "When my mom left, I contemplated asking to move in with you and, like, be my mother."
"(Ruth has) always been here for me no matter what," Britany said. "She's never put me down. She's never told me I couldn't do anything. She's never not supported me. She's never not pushed me to be my best."
Britany told Ruth, "You're probably one of the best things that's ever happened to me."