How In-Home Family Therapy Helped a Family Cope After a Series of Difficult Events
Image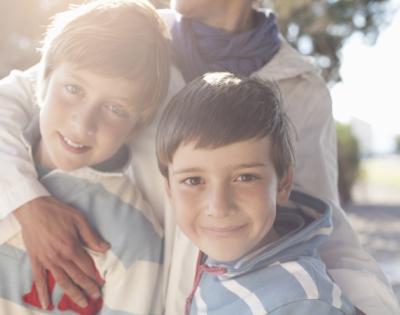 Eleven-year-old Colton stood next to his estranged father's gravesite with his mom and younger brother, and read aloud the letter he'd written to him at the suggestion of his Village family therapy counselor.
Colton, his brother, Drake, and mom, Shannon* received in-home family therapy from The Village after a series of events – including divorce, termination of dad's parental rights, and medical issues – threw the family into chaos.
Shannon says with The Village's help, she's learned better ways to deal with her sons' behaviors, set boundaries with her parents, and strengthen her family's bonds.
Therapy "helped me to see I'm stronger than I think I am most days," Shannon says.
Shannon and her husband separated in 2010, when the boys were 4 and 2. Their divorce was finalized in 2012, and for a while, her ex had visitation rights. But those visits often didn't go well, and the boys' behaviors would worsen when they returned home. A couple years later, their father petitioned to have his parental rights terminated. Shannon decided it was best not to contest it, and that she would raise and support her sons.
In 2015, their father was diagnosed with colon cancer, and a year later, he passed away. That news created a whole new round of grief, anger, and confusion for the boys.
In the midst of all that, Drake had surgery to repair a damaged kidney, and since has started having seizures. "He's just a little boy, and that's a lot of stuff to go through," Shannon says.
Both Colton and Drake have ADHD and oppositional tendencies. Shannon had previously tried different counselors and types of counseling, but says she never felt like they made progress and that "people thought I was crazy or exaggerating or not parenting well," she says.
To have a therapist come into their home and see their daily struggles affirmed for Shannon that her family's issues weren't her fault.
Now Shannon knows how to help Colton cope with his anger or frustration. She has games she can play with the boys to get them to open up. She's establishing herself as the leader of their household, and not leaning too much on her parents.
Thanks to The Village, Shannon says she doesn't feel so alone.
"We really truly appreciate everything," she adds. "I don't know how we would have managed."
*Names changed to protect clients' identity